An Amazing Panoramic View
Private Bath Myojo No Yu ~ 明星の湯 ~
Dip your body into our Myojo No Yu and watch the panoramic view of Hakone mountains spreaded out in front of you. Feel the openness, the refreshing breeze on your face while having your body warmed up.
*at our Myojo No Yu, we use redox water - which contains oxidized electrical charges that turns your body to minus charge, which has anti-aging effect. You can actually experience its effect instantly because if you soak your hair in this water, you will see it turning silkier than before. Redox water is also known to be good for rough skin, acne, eczema, weight loss and diabetes.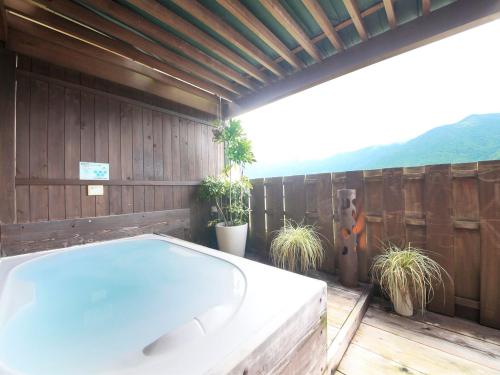 Private Bath Myojin No Yu ~ 明神の湯 ~

Equipped with a micro-bubble function, the bathtub of Myojin No Yu will give you a moment of heavenly relaxation. Switch on the hot water and just in a couple of minutes it will change into a creamy, milky bubble bath. The water we use in Myojin No Yu is has skin boosting and diet effects, especially popular amongst women.